Product Description
Feed your cat these pockets of ocean fish food and watch him devour his meal, growing healthier and more energetic by the day.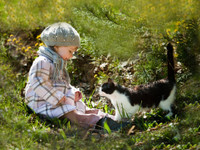 Why Whiskas?
With 100 percent nutritional balance, Whiskas meals are designed specially for your growing cat, keeping in mind its skin, fur and other vital organs and ensuring that it grows into a strong, healthy and energetic cat. Whiskas has meals in different flavours that cats love.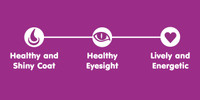 A Healthy Meal for Your Cat
This Whiskas meal is enriched with Omega 3 and 6, zinc and fatty acids to make your cat look attractive with a healthy and shiny coat. The vitamin A and Taurine in the meal go a long way in maintaining your cat's eyesight. It also contains minerals, fat and protein of selected quality to keep your cat active and bursting with energy the entire day.
Feeding Guidelines
Serve your cat this complete and balanced meal with clean drinking water every day, preferably two times a day as per your cat's body weight. If your cat does not seem to like the food at first, do continue the mixture for a few more days.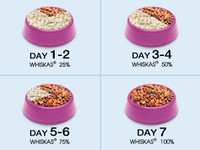 How to Get Started
Introducing your cat to Whiskas will require you to blend portions of the food in its home cooked food. Begin by blending 25 percent of Whiskas with 75 percent home cooked food on the first day. Increase this to 50 percent of Whiskas cat food in 50 percent of home food after two days. Make it 75 percent of Whiskas cat food with 25 percent home food on day 5, and after a week, your cat is ready to have the wholesome Whiskas cat food. Store your cat's Whiskas dry food in an airtight container. Ensure that it is properly sealed at all times, away from sunlight and at room temperature.